Operations Supervisor Jim Davie Runs the BMO Vancouver Marathon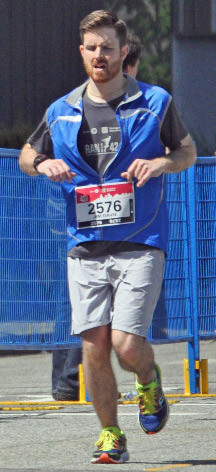 This past weekend ROSS Door and Gate's Operations Supervisor, Jim Davie, completed the BMO Vancouver Marathon. Hailed as Canada's most scenic marathon, and the coastal city's only marathon each year, it is a race not to be missed by any avid runner. 
Jim was a casual runner for some time who decided to try a 10 kilometre race, and then another, and then he was hooked. It was always Jim's goal to complete a full marathon, and this race was his second time completing the daunting task. 
Jim decided to run the BMO Vancouver Marathon because of its scenic views and the prestige the BMO Marathon holds in the city of Vancouver. The sites along the race were certainly beautiful, and the race itself was very challenging. After spending the winter training in much cooler temperatures, race day was sunny and warm making the race even more challenging for Jim and the other racers. 
It was at the 30 kilometre mark that Jim had to pull together mentally and physically to stay focused for the remaining 10 kilometre in front of him. With his emotions and fatigue weighing him down, Jim persevered and completed the race. 
When we asked Jim what he wanted to share most about the experience, he was quick to say, "You can't do just one," so we are sure we will see him hitting the raceways again in the not so distant future. Way to go Jim!