Introducing Triforce by Garaga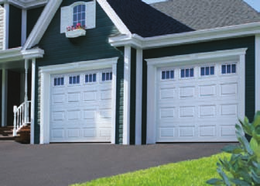 ROSS Door & Gate is a proud vendor of Garaga Overhead Doors—a brand known for attention to detail and industry-leading design and construction.  Garaga doors are thermally efficient, durable, and offer detail-oriented designs in many styles to suit the taste of a wide variety of homeowners. 
The latest product, Triforce by Garaga, is no exception.  Triforce is not your average polystyrene-insulated door.  Triforce doors are the perfect choice for every heated garage application.  Made of two-inch thick galvanized steel, Polystyrene insulation with an insulation value of R-10 and a baked on polyester paint coating, these doors are exceeding industry standards.   
No need to sacrifice on style in order to go with a functional door, the Triforce doors come in an attractive woodgrain texture and six different colour options with various choices in size and panel styles.  
As an additional styling feature, decorative windows can also be added to the Triforce door of your choice.  Windows come in either two or four window combinations.  
With a limited lifetime warranty on the door sections and a 10-year warranty on the windows, Garaga's "Every detail guaranteed" slogan isn't just a statement, it's a promise.  Buy with confidence, Triforce by Garaga from ROSS Door & Gate.